Wat leuk! Er is een suikerbuikje geboren.
"Kom eens kijken allemaal!"
De suikerbuikjes, die zeer langzaam lopen en nooit haast hebben, snellen zich nu naar de achterste kamer van het poppenhuis.
"Sssssst!…….  heel stil  zijn allemaal," fluistert Klotje, "anders wordt de baby wakker."
Met gespannen gezichtjes schuifelen de suikerbuikjes de babykamer in.
Hoera! Wat een vreugde. De gele suikerbuikjes beginnen te springen van geluk en de rode suikerbuikjes pinken een traan weg.
Ze staan allemaal om het kleine wiegje, gemaakt van een schil van een noot.
Daar ligt het kleine suikerbuikje! Wat een baby!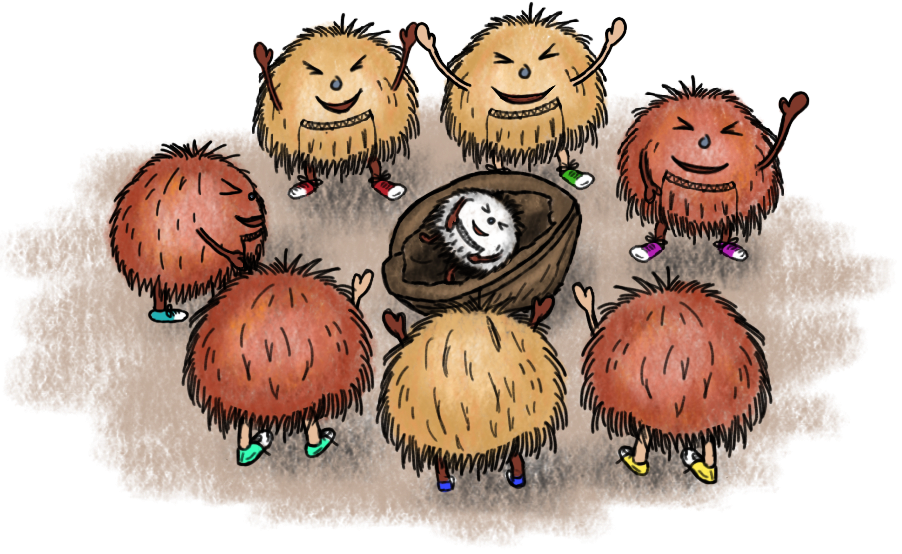 Ohhh! Ze is nog helemaal wit!
"Is het een meisje of een jongen?" vraagt Brechtje nieuwsgierig.
Dat kun je bij suikerbuikjes pas na zes weken zien. Dan krijgen ze een kleurtje.  Dat kan geel zijn, of oranje of rood. Sommige blijven wit. En dan weet je ook of het een jongen of een meisje is.
Wat denk jij? Welke kleur krijgt het kleine suikerbuikje? En wordt het een meisje of een jongen?
Geef het suikerbuikje een kleur en lever de tekening in bij  de winkel,
"Even-naar-Sofietje", Koningstraat 73 in Arnhem. Vergeet niet erbij te schrijven of het een jongen of een meisje wordt!
En schrijf je naam ook even op, met adres en email/telefoon, als je wilt.
Dag! De groeten van de suikerbuikjes.