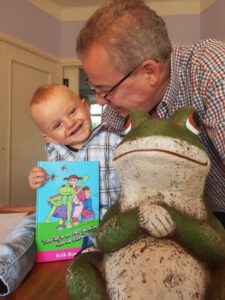 Erik Bosch is schrijver. Hij heeft de suikerbuikjes bedacht. Nou, je gelooft het niet, maar…. hij zag ze in zijn huis aan de bosrand over de tafel lopen, hij was stomverbaasd en dacht: "Dit bedenk je niet, het gebeurt gewoon! Dit schrijf ik op".
Erik leert veel van de suikerbuikjes. En hij buldert vaak van het lachen achter zijn schrijftafel, als hij weer wat nieuws bedenkt. Hij vindt het leuk dat veel mama's, papa's, opa's, oma's, juffrouwen en meesters voorlezen uit "Sofietje en de suikerbuikjes". Dat kan al vanaf vijf jaar! En je kunt het boek zelf lezen als je al een jaar of acht bent.
De grote mensen vinden de boeken ook leuk. "Je kunt er erg om lachen, maar ook veel van leren". Dat vertellen ze de schrijver ook over zijn eerste kinderboek: "Sofietje en het geheim van de kikker". Kikker heeft vijftig jaar op de kikkerbasisschool gezeten. Daar heeft hij leren toveren. Knap hoor! Sommige kinderen houden in de klas een spreekbeurt over Sofietje en Kikker. Goed zeg. De kinderboeken van Erik worden ook in Duitsland gelezen.
Erik Bosch heeft veel boeken geschreven voor grote mensen. En nu gaat hij wat meer schrijven voor kleinere mensen, de kinderboekenserie "De Sofietjes". In "Sofietje en Vissenman" lezen we ook weer over de suikerbuikjes. Dat boek is nog niet af. Zo nu en dan verschijnt er een nieuw verhaaltje over de suikerbuikjes op deze website. Misschien leest papa of mama er eentje voor. Misschien lees je er zelf eentje. Hoe dan ook: veel plezier!
Heb jij een vraag over de suikerbuikjes of Sofietje? Daar weet Erik natuurlijk alles van! Stel hier jouw vraag aan Erik.
Erik komt ook wel eens in de winkel "Even-naar-Sofietje" (Koningstraat 73 in Arnhem), ook om even met Ellen Suykerbuyk te praten. Suykerbuyk? Is dat dan ook een suikerbuik? Nee, zij is veel groter, zij is een mens. Suikerbuikjes zijn zo klein als een grote stuiter, die zien er toch wel heel anders uit!