Ken jij de suikerbuikjes al?
"Wie zijn de suikerbuikjes?"
Suikerbuikjes zijn harige wezentjes, zo groot als een stuiter. Klein dus!  Ze zijn geel. Of rood. Of wit. Of oranje. Meer kleuren zijn er niet. Mooi dat ze zo klein zijn, zo konden ze immers goed wonen in de spleten van muren van oude huizen. Waarom? Nou, ze waren doodsbang voor de raven, die eten namelijk suikerbuikjes en kunnen  niet in die spleten komen….. Brr…. Je zult toch een suikerbuikje zijn. Maar gelukkig heeft Kale Buurman een poppenhuis voor de suikerbuikjes gemaakt, nu leven ze daar in alle rust.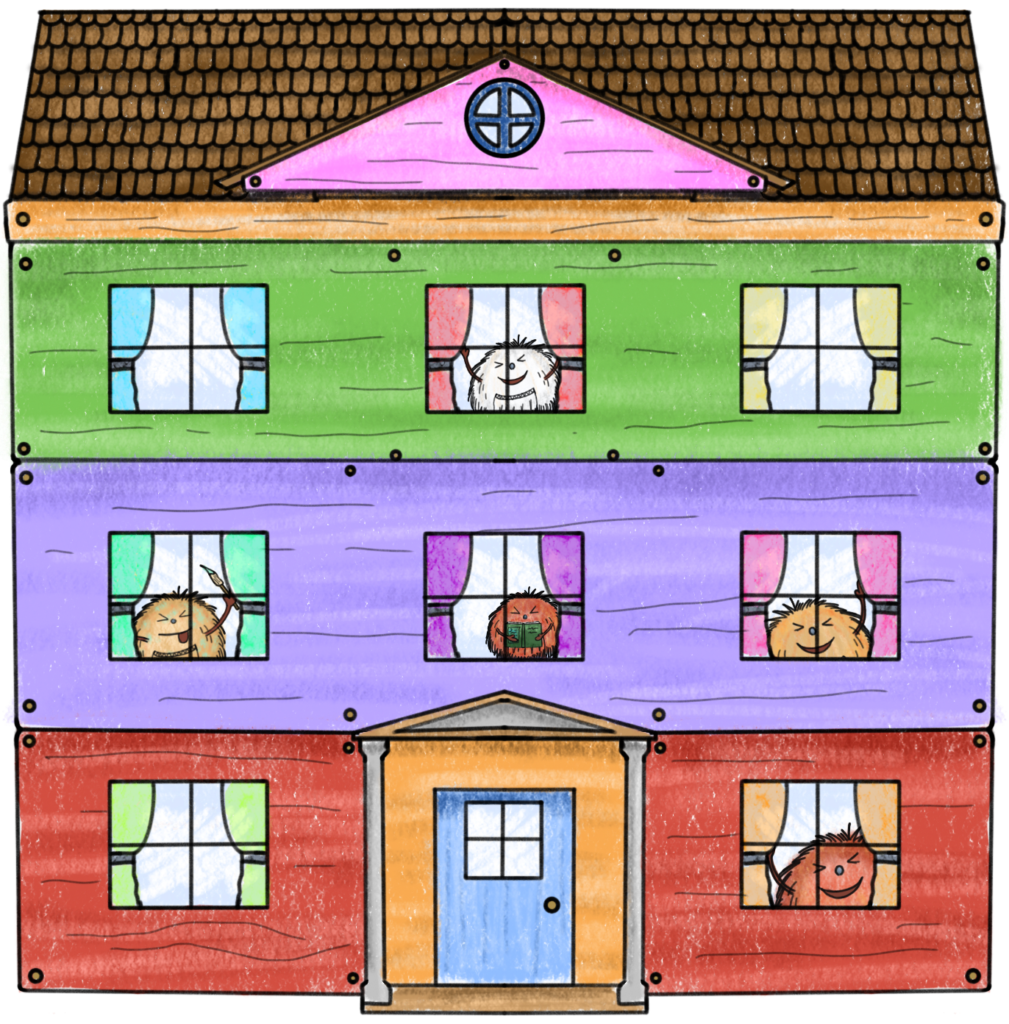 Dat is een heel verhaal…. Lees maar in "Sofietje en de suikerbuikjes", wat die suikerbuikjes allemaal niet meemaken! Doldwaze avonturen.
Ja, die grappige wezentjes lopen op gymschoenen, maar bewegen nauwelijks! Tja, alleen als het echt moet. Ze hebben de pest aan beweging. Die gymschoenen hebben ze voor de sier. En natuurlijk omdat je ze makkelijk aan en uit kunt trekken, niet te veel beweging graag! Dat is belangrijk…. Ze slapen veel. Ze zijn aartslui.
Ze vinden de mensen vreemd. Want die hebben altijd haast en toch geen tijd. Sommigen hebben zelfs geen tijd om te lachen! De suikerbuikjes lachen vreselijk veel, maken grapjes en zingen graag…. Ze rollen vaak over de tafel of het gras met de gymschoentjes in de lucht, ze lachen dan onbedaarlijk, er is dan geen houden meer aan…. Een grappig gezicht, zelfs serieuze en strenge mensen moeten daar dan om lachen….
Ik kan nog veel meer over ze vertellen. Ook over Kikker (die toveren kan!), Oelie de uil, Vissenman (die geen vis is, maar ook geen man), de kwekkerbekken, Sofie en Igor, nou ja…. Dat doe ik later een keer, oké?
Als je iets vragen wil of vertellen, dan hoor ik dat toch wel? Goed zo!
Erik Bosch, de schrijver.